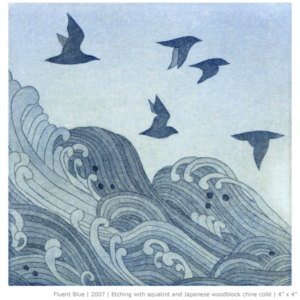 Season's Readings!
All of us at Lopez Bookshop wish you a joyous holiday season and a wonderful new year. Thank you for your friendship and support, and thank you for sharing your stories with us.
Happy Holidays!
Beth, Karen, and Iris

seas darkening,
the wild duck's calls
grow faintly white
-Basho
I just opened a box of books.
Do you know that feeling you get when something wonderful comes into your life and you feel so darned blessed that you are there to receive it?
I'm in love with books.  Ever since my mom placed the San Jose Library card in my hand when I was five years old, I have been blessed.  You see, books have been my constant companions – and as a shy child (and a shy adult) books have been my springboard to other people, places, and experiences.  The beauty of a book is unmatched – the font, the illustrations and deckled pages, the tactile experience of holding such beauty in my hands.
I often hear that people are just too busy for reading.  Hmm.  If I may, reading is what we need to be doing when our world is too hectic and unsettling.  Books center us.  Books provide a safe harbor.  Books take us out of ourselves and into a larger world.  Books are the tether and the release into imagination, information, and entertainment.
Owning a bookstore and being part of this community is a dream come true.
On behalf of Beth and Iris, thank you for providing us with the opportunity to share our love of books with you.
Best wishes,
Karen
"
Spirit of Giving

" Program
The Lopez Island Family Resource Center's "Spirit of Giving" Program is here! We have tags for gift certificates and other specific needs. Gifts should be purchased by December 11th, so that families have time to do their holiday shopping. Thank you for your support.
Please Join Us for the Next Events at Lopez Bookshop.
All are free and open to the public.
Friday, January 5th, 7:00pm – Local Writers Read

Please join us on Friday, January 5th at 7:00pm for the first Local Writers Read of 2018. Lopezian Irene Skyriver will read from her new book Paddling with Spirits: A Solo Kayak Journey from Alaska to her home in the San Juan Islands. G. Elizabeth Kretchmer, who lives on San Juan Island, will present Bear Medicine, her novel about women helping women.

Holiday

cards are here!
And for that special gift, come see the journals, cards, calendars, and books by local artists and authors.
Suggested Books for the Holidays



Fiction Recommendations

Nonfiction Recommendations
Children's Book Recommendations
Tween Recommendations
Teen Recommendations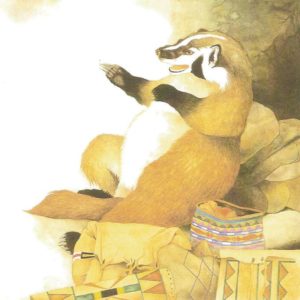 "Badger" by Tom Pohrt
"The stories people tell have a way of taking care of them. If stories come to you, care for them. And learn to give them away where they are needed. Sometimes a person needs a story more than food to stay alive."
                                                                            -Barry Lopez, Crow and Weasel