At  Lopez Bookshop we celebrate the book and the importance it has in our lives.
We invite you to come in and browse our diverse selection of new and used books. It's a pleasure for us to share in your reading experience and to help you select the next book that will inform, entertain, and delight.
 Karen, Beth, Carol, & Iris
Please Join Us for the Next Events at Lopez Bookshop.
All are free and open to the public.
Join us for Music on the Boards, Saturday, October 14th at 2:30pm for Tamara Shane's special blend of original songs & music and Irish tunes. This event is on the boardwalk, sponsored by the Lopez Bookshop, Lopez Coffee Shop, and Holly B's Bakery.
Tuesday, October 31st, 5:00pm
Bring Your Own Carved Pumpkin Contest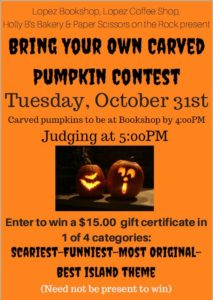 On Tuesday, October 31st, at 5:00pm, join the Lopez Bookshop, Lopez Coffee Shop, Holly B's Bakery and Paper Scissors on the Rock for a Halloween family event. Bring your carved pumpkins before 4:00pm on Halloween Day and let us know which category – Scariest, Funniest, Most Original or Best Island Theme – you want to enter  to win a $15.00 gift certificate! Judging will occur at 5:00pm. Also plan to attend the many other Halloween events in the Village including "Trunk or Treat", a live band and more!
Friday, November 3rd, 7:00pm
"Local Writers Read"

Please join us in welcoming Erika Davis, Susan Erickson and Judith Works on Friday, November 3 at 7:00pm for "Local Writers Read." Lopez poet Erika Davis will read her original poems on "how to get through each day … with all the chaos and stillness and beauty." Traveling from Bellingham, Susan Erickson will give voice to women from her book of poetry, Lauren Bacall Shares a Limousine. Edmond's author Judith Works will introduce us to Rome with her memoir, Coins in the Fountain.
Saturday, November 11th, 5:00pm
Poet William O'Daly

Lopez Bookshop invites you to welcome poet William O'Daly on Saturday, November 11 at 5:00pm. Mr. O'Daly will read from his translation of Pablo Neruda's Book of Twilight, published by Copper Canyon Press. The writing, reading, and editing of poetry have formed the core of William O'Daly's career, and these endeavors nourish every aspect of his public and personal life. "Poetry is a way of being in the world," he says, "and it is within us all." Book of Twilight and other works by O'Daly will be available for sale after the presentation.
A Few New Arrivals at Lopez Bookshop
Nonfiction

 
The Origins of Creativity by Edward O. Wilson. An "examination of the relationship between the humanities and the sciences: what they offer to each other, how they can be united, and where they still fall short. Both endeavours, Edward O. Wilson reveals, have their roots in human creativity–the defining trait of our species"
the sun and her flowers by rupi kaur. "From Rupi Kaur, the #1 New York Times bestselling author of milk and honey, comes her long-awaited second collection of poetry. A vibrant and transcendent journey about growth and healing. Ancestry and honoring one's roots. Expatriation and rising up to find a home within yourself."
The Six: The Lives of the Mitford Sisters  by Laura Thompson.  "Born into country-house privilege in the early years of the 20th century, theMitford sisters became prominent as 'bright young things' in the high society of interwar London. Then, as the shadows crept over 1930s Europe, the stark–and very public–differences in their outlooks came to symbolize the political polarities of a dangerous decade."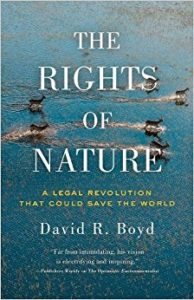 The Rights of Nature: A LEgal Revolution That Could Save the World  by David R. Boyd. " An irrefutable body of law is being built in support of nature's rights, a topic which is getting more and more attention in the media. This book is the first of its kind to explore cases around the world, how we got here, and how we must force governments to change how they operate."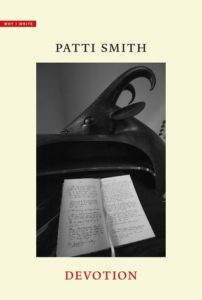 Devotion (Why I Write)  by Patti Smith. ""In lyric essays, a story, poems, and photographs, Smith illuminates the whirl of chance and choice that stokes a writer's imagination, recounting her fascination on the eve of a trip to Paris with Simone Weil and an evocative, accidentally discovered film about Stalin's mass deportation of Estonians. In France, a gravestone, a televised figure-skating competition, … all converge in what becomes Devotion, [a] … fairy tale about a young, displaced Estonian skater and a solitary dealer in rare objects and arms. A fable about creativity and obsession, possession and freedom is followed by a meditation on how a work of art is, for other artists, a call to action"
Fiction
Park Bench  by Chaboute. From its creation, to its witness to the fresh ardor of lovers, the drudgery of businessmen, the various hopes of the many who enter its orbit, the park bench weathers all seasons. Strangers meet at it for the first time. Old friends sit and chat upon it for hours. Others ignore the bench, … Christophe Chaboute's mastery of the visual medium turns this simple object into a thought-provoking and gorgeously wrought meditation on time, desire, and the life of communities all across the planet. This could be a bench in my hometown or yours–the people in this little drama are very much those we already recognize."
Manhattan Beach by Jennifer Egan. " Manhattan Beach opens in Brooklyn during the Great Depression. Anna Kerrigan, nearly twelve years old, accompanies her father to the house of Dexter Styles, a man who, she gleans, is crucial to the survival of her father and her family. Years later, her father has disappeared and the country is at war. Anna works at the Brooklyn Naval Yard, where women are allowed to hold jobs that had always belonged to men. She becomes the first female diver, the most dangerous and exclusive of occupations, repairing the ships that will help America win the war. "
The Tobacconist by Robert Seethaler. "Seventeen-year-old Franz Huchel journeys to Vienna to apprentice at a tobacco shop. There he meets Sigmund Freud, a regular customer, and over time the two very different men form a singular friendship. When Franz falls desperately in love with the music-hall dancer Anezka, he seeks advice from the renowned psychoanalyst, who admits that the female sex is as big a mystery to him as it is to Franz. As political and social conditions in Austria dramatically worsen with the Nazis' arrival in Vienna, Franz, Freud, and Anezka are swept into the maelstrom of events. Each has a big decision to make: to stay or to flee?"
Tales of Falling and Flying by Ben Loory. "In stories that eschew literary realism, Loory's characters demonstrate richly imagined and surprising perspectives, whether they be dragons or swordsmen, star-crossed lovers or long-lost twins, restaurateurs dreaming of Paris or cephalopods fixated on space travel."
Young Adult

Jane, Unlimited by Kristin Cashore (author of Graceling). "Recently orphaned Jane accepts an unexpected invitation from an old acquaintance to an island mansion where she will face five choices that could ultimately determine the course of her newly untethered life."

Neverwhere: Illustrated Edition by Neil Gaiman. "Richard Mayhew's life is forever changed after he rescues a young girl named Door and finds himself living in a city of monsters, saints, murderers, and angels, and he must help Door on her mission to save this strange underworld kingdom from destruction."
Children
The War I Finally Won by Kimberly Brubaker Bradley. "This sequel to Bradley's Newbery Honor-winning The War that Saved My Life continues Ada's World War II journey as new challenges force her to figure out who she really is now that she's free.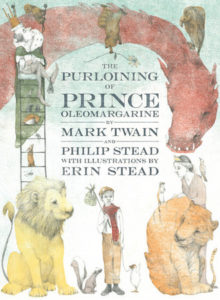 The Purloining of Prince Oleomargarine by Mark Twain and Phillip Stead with illustrations by Erin Stead. "Based on a set of unfinished Mark Twain notes for a children's story, this is the tale of Johnny, a young boy with a magical ability to speak to animals who sets off to rescue a stolen prince." Stunning illustrations accompany this beautiful story.

Wishtree by Katherine Applegate. " Red is an oak tree who is many rings old. She is the neighborhood "wishtree"—people write their wishes on pieces of cloth and tie them to Red's branches. Along with her crow friend Bongo and other animals who seek refuge in Red's hollows, this "wishtree" watches over the neighborhood. You might say Red has seen it all. Until a new family moves in. Not everyone is welcoming, and Red's experiences as a wishtree are more important than ever."

Ship of the Dead (Magnus Chase and the Gods of Asgard #3) by Rick Riordan. "As the son of Frey, the god of summer, fertility, and health, Magnus Chase, one of Odin's chosen warriors, isn't naturally inclined to fighting. But Loki is free from his chains. He's readying "Naglfar, " the Ship of the Dead, to sail against the Asgardian gods and begin the final battle of Ragnarok. It's up to Magnus and his friends to stop him."
"The stories people tell have a way of taking care of them. If stories come to you, care for them. And learn to give them away where they are needed. Sometimes a person needs a story more than food to stay alive."
                                                                            -Barry Lopez, Crow and Weasel