Please Join Us for the Next Events at Lopez Bookshop.
All are free and open to the public.
Friday, March 23, 7 PM
Lauren Danner presents her new book, Crown Jewel Wilderness.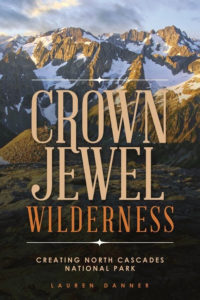 The North Cascades National Park celebrates its 50th anniversary in 2018, and a new book from Washington State University Press, Crown Jewel Wilderness: Creating North Cascades National Park, offers the first comprehensive account of its creation—a narrative that involves more than a decade of grassroots activism and political maneuvering.
Wednesday, March 28, 7 PM – Stephen Corey

editor of Georgia Review & author of four  poetry collections and a new essay collection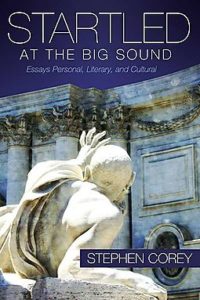 New Arrivals for February
Nonfiction
London Fog: The Biography by Christine Corton. "In popular imagination, London is a city of fog. The classic London fogs, the thick yellow "pea-soupers," were born in the industrial age of the early nineteenth century. Christine L. Corton tells the story of these epic London fogs, their dangers and beauty, and their lasting effects on our culture and imagination."
Storm in a Teacup: The Physics of Everyday Life by Helen Czerski. "Czerski provides the tools to alter the way we see everything around us by linking ordinary objects and occurrences, like popcorn popping, coffee stains, and fridge magnets, to big ideas like climate change, the energy crisis, or innovative medical testing. She guides us through the principles of gases ('explosions in the kitchen are generally considered a bad idea. But just occasionally a small one can produce something delicious'); gravity (drop some raisins in a bottle of carbonated lemonade and watch the whoosh of bubbles and the dancing raisins at the bottom bumping into each other); size (Czerski explains the action of the water molecules that cause the crime-scene stain left by a puddle of dried coffee); and time (why it takes so long for ketchup to come out of a bottle)."
Border: A Journey to the Edge of Europe by Kapka Kassabova. "In this extraordinary work of narrative reportage, Kapka Kassabova returns to Bulgaria, from where she emigrated as a girl twenty-five years previously, to explore the border it shares with Turkey and Greece."
Start Where You Are: A Journal for Self-Exploration by Meera Lee Patel.  "An interactive journal designed to help readers nurture their creativity, mindfulness, and self-motivation. It helps readers navigate the confusion and chaos of daily life with a simple reminder: that by taking the time to know ourselves and what those dreams are, we can appreciate the world around us and achieve our dreams."
Fiction
The Hearts of Men by Nickolas Butler. "Camp Chippewa, 1962. Nelson Doughty, age thirteen, social outcast and overachiever, is the Bugler, sounding the reveille proudly each morning. Yet this particular summer marks the beginning of an uncertain and tenuous friendship with a popular boy named Jonathan. Over the years, Nelson, irrevocably scarred from the Vietnam War, becomes Scoutmaster of Camp Chippewa, while Jonathan marries, divorces, and turns his father's business into a highly profitable company. And when something unthinkable happens at a camp get-together with Nelson as Scoutmaster and Jonathan's teenage grandson and daughter-in-law as campers, the aftermath demonstrates the depths-and the limits-of Nelson's selflessness and bravery. "
Woman in the Window by A. J. Finn. "It isn't paranoia if it's really happening … Anna Fox lives alone — a recluse in her New York City home, drinking too much wine, watching old movies … and spying on her neighbors. Then the Russells move next door: a father, a mother, their teenaged son. The perfect family. But when Anna sees something she shouldn't, her world begins to crumble — and its shocking secrets are laid bare. What is real? What is imagined? Who is in danger? Who is in control? In this gripping Hitchcockian thriller, no one and nothing are what they seem."
Children's Books
Welcome to Country: A Traditional Aboriginal Ceremony by Aunty Joy Murphy and Lisa Kennedy. "An expansive and generous Welcome to Country from a most respected Elder, Aunty Joy Murphy, beautifully given form by Indigenous artist Lisa Kennedy. 'Welcome to the traditional lands of the Wurundjeri People. We are part of this land and the land is part of us. This is where we come from. Wominjeka Wurundjeri balluk yearmenn koondee bik. Welcome to Country.'"
Lifetime: The Amazing Numbers in Animal Lives by Lola Schaefer and Christopher Neal. "In one lifetime, a caribou will shed 10 sets of antlers, a woodpecker will drill 30 roosting holes, a giraffe will wear 200 spots, and a seahorse will birth 1,000 babies. Readers can count each one and many more while learning about the wondrous things that can happen in just one lifetime."
Star Wars: The Last Jedi: The Visual Dictionary by Pablo Hidalgo. "The definitive guide to the latest film in the Star Wars saga, revealing the characters, creatures, droids, locations, and technology. Packed with 100+ images and information."
Tween Books
Icebreaker by Lian Tanner. "Petrel is an outcast on the ancient ship, an icebreaker, that has been following the same course for 300 years. In that time, the ship's crew has forgotten its original purpose and broken into three warring tribes. Everyone has a tribe except Petrel. Nicknamed the Nothing Girl, Petrel has been ostracized ever since her parents were thrown overboard as punishment for a terrible crime. But Petrel is a survivor. She lives in the ship's darkest corners, and trusts no one except two large gray rats–that is, until a mysterious boy is discovered barely alive on an iceberg, and brought onto the ship."
The Drake Equation by Bart King. "Noah Grow is a bird-watcher. Right now, Noah is on a quest to find a wood duck. According to his calculations, aka the Drake Equation, the odds are really good-for spotting one. That's why he gets off the bus at the wrong stop. And that's how he ends up running down a hill, crashing into a fence, and landing right next to a strange, glittery disc. Noah and his best friends, Jason and Jenny, soon discover that the mysterious disc gives Noah peculiar powers. As things go from odd to outrageous, Noah is swept up in a storm of intergalactic intrigue and middle-school mayhem. There's much more at stake than Noah realizes." 
Murder Is Bad Manners by Robin Stevens. "At an English boarding school in the 1930s, crime-solving friends Hazel Wong and Daisy Wells struggle to find an exciting mystery to investigate and hit pay-dirt when Hazel discovers the dead body of Miss Bell, the science teacher."
Teen Books
The Midnight Star by Marie Lu. (Young Elites #3) "Adelina Amouteru is done suffering. She's turned her back on those who have betrayed her and achieved the ultimate revenge: victory. Her reign as the White Wolf has been a triumphant one, but with each conquest her cruelty only grows … When a new danger appears, Adelina's forced to revisit old wounds, putting not only herself at risk, but every Elite. In order to preserve her empire, Adelina and her Roses must join the Daggers on a perilous quest– though this uneasy alliance may prove to be the real danger."
Splendors & Glooms by Laura Amy Schlitz. "A Newbery Medalist brings her sorcery to a Victorian gothic thriller–an enthralling, darkly comic tale that would do Charles Dickens proud."

Very Far Away from Anywhere Else by Ursula Le Guin. "Seventeen-year-old Owen Griffiths learns to find his own way to a future in science through a friendship with a girl whose life is dedicated to music."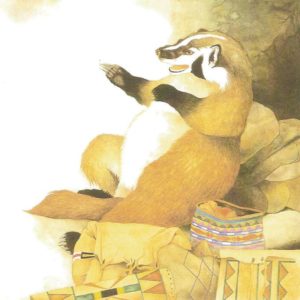 "Badger" by Tom Pohrt
"The stories people tell have a way of taking care of them. If stories come to you, care for them. And learn to give them away where they are needed. Sometimes a person needs a story more than food to stay alive."
                                                                            -Barry Lopez, Crow and Weasel