At  Lopez Bookshop we celebrate the book and the importance it has in our lives.
We invite you to come in and browse our diverse selection of new and used books. It's a pleasure for us to share your reading experience and to help you select the next book that will inform, entertain, and delight.
Linda Brower & Karen Barringer, Owners
Time for Travel & Adventure
We have lots of titles to help with yours
A Few New Arrivals at Lopez Bookshop
Nonfiction
Barbarian Days: A Surfing Life by William Finnegan describes the author's experiences as a lifelong surfer, from his early years in Honolulu through his culturally sophisticated pursuits of perfect waves in some of the world's most exotic locales.
Hammer Head: The Making of a Carpenter by Nina Maclaughlin.   An inspiring book for anyone who has ever dreamed of changing tracks: the story of a young woman who quit her desk job to become a carpenter.
Sounds and Sweet Airs:  The Forgotten Women of Classical Music by Anna Beer reveals the hidden stories of eight remarkable female composers, taking the reader on a journey from seventeenth-century Medici Florence to London in the Blitz.
Fiction
Before the Wind by Olympia, WA author Jim Lynch. Growing up on the Puget Sound, the Johannssen family has sailing in their blood, but the oldest brother, Josh, is left puzzling over what caused his siblings to flee, one to Africa, the other to points unknown as a fugitive and pirate.
Speak by Louisa Hall.  In a narrative that spans geography and time, from the Atlantic Ocean in the seventeenth century, to a correctional institute in Texas in the near future, and told from the perspectives of five very different characters, Speak considers what it means to be human, and what it means to be less than fully alive.
The Last Painting of Sara De Vos – Dominic Smith bridges the historical and the contemporary, tracking a collision course between a rare landscape by a female Dutch painter of the golden age, an inheritor of the work in 1950s Manhattan, and a celebrated art historian who painted a forgery of it in her youth.
Children
Bear & Hare — Where's Bear? by Emily Gravett.
Friends Bear and Hare play a game of hide and seek, counting from one to ten each round.  (ages 4+)
This is Not a Picture Book! by G. Sergio Ruzzier. Duck finds a book and is surprised to discover that there are books with words and no pictures–and that even without pictures, a book can be interesting and exciting. (ages 8+)
Saving Wonder by Mary Knight. Curley Hines has lost his father, mother, and brother to coal mining, and now he lives with his grandfather in the Appalachian mountains of Wonder Gap, Kentucky–but when the mining company prepares to destroy their mountain he must use the words his grandfather has taught him to save Red Hawk Mountain, even if it means losing the life he loves. (ages 8+)
The Trials of Apollo by Rick Riordan. After angering his father Zeus, the god Apollo is cast down from Olympus. Weak and disoriented, he lands in New York City as a regular teenage boy. Now, without his godly powers, the four-thousand-year-old deity must learn to survive in the modern world until he can somehow find a way to regain Zeus's favor. (ages 10+)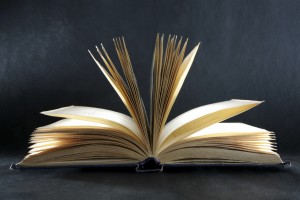 The reader became the book; and summer night
Was like the conscious being of the book.
~ Wallace Stevens