At  Lopez Bookshop we celebrate the book and the importance it has in our lives.
We invite you to come in and browse our diverse selection of new and used books. It's a pleasure for us to share in your reading experience and to help you select the next book that will inform, entertain, and delight.
 Karen, Beth, & Iris
Please Join Us for the Next Events at Lopez Bookshop.
All are free and open to the public.
Friday, April 30 at 3:00 pm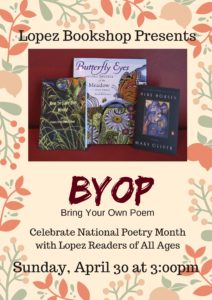 Lopez Bookshop celebrates National Poetry Month with BYOP (Bring Your Own Poem), Sunday, April 30th, at 3:00pm. Lopez readers of all ages will present their poem or a favorite poem: youth will read first followed by adults.  If you are interested in participating, please contact Lopez Bookshop at lopezbookshop@rockisland.com or 468-2132. The number of readers is limited, so please sign up soon. We look forward to seeing you on the 30th!
May Local Writers Read – Friday, May 5, 7:00 PM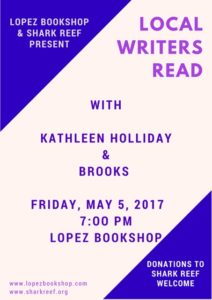 Kathleen Hollidy will read from a memoir piece titled, "Where We Once Belonged" published in Soundings Review. Join Brooks in celebrating the release of her first chapbook of poems, "Who's to Say."
BookWalks with Beth, Saturday, May 6 at 1:00 PM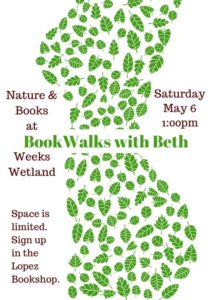 Join naturalist and reader Beth St. George for a nature walk and book talks at Weeks Wetland. We will watch for birds and butterflies and enjoy the awakening of spring wildflowers and plants. At the observation deck, Beth will book talk a variety of natural history books. Space is limited, so please sign up at the bookshop.
Music on the Boards – Saturday, May 13, 2:30 PM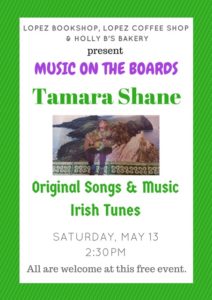 Join the Lopez Bookshop, Lopez Coffee Shop and Holly B's Bakery on second Saturdays at 2:30pm for musical afternoons on the deck. The Premiere is May 13th with Lopezian Tamara Shane, composer of original songs and music, and player of Irish tunes. If you are interested in performing, please contact Beth or Karen at the bookshop.
All are welcome at these free events.
Welcome  New Business Partner
Beth St. George
Karen Barringer and Linda Brower haven't shied away from change since opening Lopez Bookshop in November 2011. They expanded the store to twice its original size, added used books to the inventory, increased their social media presence, and hosted author events. Recently the two sisters made their biggest modification, with Linda's departure and Beth St. George, the former Youth Services Coordinator at Lopez Island Library, becoming Karen's new business partner. "As much as Linda loved the Bookshop," Karen says, "it just couldn't compete with her grandson Collin, who lives in Spokane."
Karen valued Linda's knowledge of children's and young adult literature and feels that Beth's love of books and her experience in schools and libraries creates, "the perfect continuum" for their shared partnership. Linda and Beth started two book clubs: Young Adult Readers of Lopez Island (YARLI) for adults and teens, and Pageturners for middle-school students, both of which Beth will continue to lead. An avid birder and naturalist, Beth will be combining her passions for books and nature on Book Walks – a walking tutorial of nature's wonders.
Beth reads mostly youth literature, "because so much excellent writing is coming out for youth today, and much of it can be appreciated by adults. It's often meaningful and entertaining without being graphic." Beth especially loves picture books. "I like to call them 'Everybody Books,' because so many are pertinent to all ages."
Stop in to say hello to Beth.
A Few New Arrivals at Lopez Bookshop
Nonfiction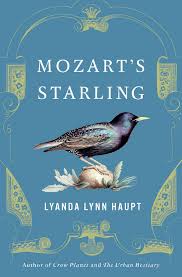 Mozart's Starling by Lyanda Lynn Haupt.  In 1784, a starling who sang a version of Mozart's piano concerto became a member of his household and his muse. Two hundred years later, starlings are reviled by even the most compassionate environmentalists as they destroy crops and compete with native birds. Enter Haupt, a naturalist-writer who raises her own starling to understand the species affect on her favorite composer. "A blend of natural history, biography, and memoir, Mozart's Starling is a tour de force that awakens a surprising new awareness of our place in the world."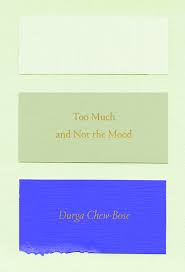 Too Much and Not the Mood: Essays by Durga Chew-Bose. On April 11, 1931, Virginia Woolf ended her entry in A Writer's Diary with the words "too much and not the mood." She was describing how tired she was of correcting her own writing, of the "cramming in and the cutting out" to please other readers, wondering if she had anything at all that was truly worth saying. The character of that sentiment, the attitude of it, inspired Durga Chew-Bose to write and collect her own work. The result is a lyrical and piercingly insightful collection of essays and her own brand of essay-meets-prose poetry about identity and culture.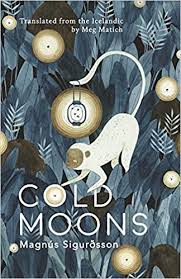 Cold Moons by Magnus Sigurosson. Through intricate wordplay and a titanic understanding of his native Icelandic, rendered with perfect tone by award‐winning translator Meg Matich, Sigurosson creates tiny but arresting artifacts. Whether describing the dwarf wasp's one‐millimeter wingspan or the roots of a bonsai, he is a cosmologist of language, and Cold Moons is an intimate map of his distinctive universe.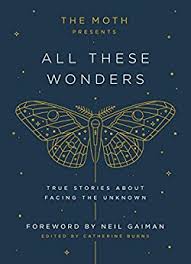 The Moth Presents All These Wonders: True Stories About Facing the Unknown edited by Catherine Burns. Carefully selected by the creative minds at The Moth, and adapted to the page to preserve the raw energy of live storytelling, All These Wonders features voices both familiar and new. High-school student and neuroscientist alike, the storytellers share their ventures into uncharted territory—and how their lives were changed indelibly by what they discovered there.
Fiction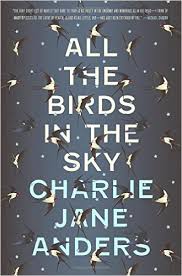 All the Birds in the Sky by Charlie Jane Anders. An ancient society of witches and a hipster technological startup try to keep the world from falling apart. As the battle between magic and science wages in San Francisco against the backdrop of international chaos, techno-wonder, Laurence and brilliant witch, Patricia are forced to choose sides. But their choices will determine the fate of the planet and all mankind.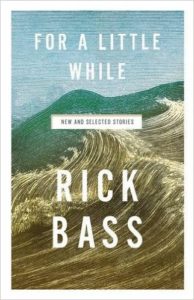 For a Little While: New & Selected Stories by Rick Bass.  These intricate stories-brimming with magic and wonder, filled with hard-won empathy, marbled throughout with astonishing imagery-have the power both to devastate and to uplift. For a Little While showcases an iconic American master at his peak, and is a breathtaking work of literature.
Children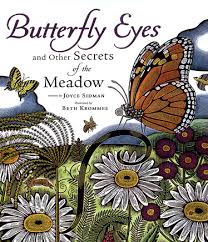 Butterfly Eyes and Other Secrets of the Meadow by Joyce Sidman and Beth Krommes. "Discover the hidden world of the meadow in this unique combination of poetry riddles and science wisdom. Beginning with the rising sun and ending with twilight, this book takes us on a tour through the fields, encouraging us to watch for a nest of rabbits, a foamy spittlebug, a leaping grasshopper, bright milkweed, a quick fox, and a cruising hawk." (all ages)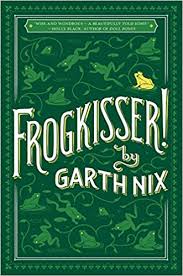 Frogkisser! by Garth Nix.  Poor Princess Anya. Plagued with an unfortunate ability to break curses with a magic kiss. Forced to go on the run when her step-stepfather decides to make the kingdom his own. Aided by a loyal talking dog, a boy thief trapped in the body of a newt, and some mischievous wizards, Anya sets off on a Quest to free her land and teach her a thing or two about the use of power and the finding of friends in places high and low. Garth Nix has conjured a fantastical tale for all ages, full of laughs and danger, surprises and delights, and an immense population of frogs. (ages 11 & up)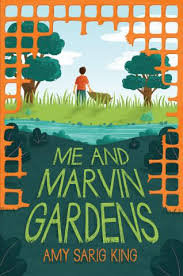 Me and Marvin Gardens by Amy Sarig King. Obe Devlin has problems. His family's farmland has been taken over by developers. His best friend abandoned him for the development kids. And he keeps getting nosebleeds. So Obe hangs out at the creek, picking up litter and looking for animal tracks. One day, he sees a creature that looks kind of like a large dog, or maybe a small boar. As he watches it, he realizes it eats plastic. Only plastic. There's never been a creature like this before. The animal–Marvin Gardens–soon becomes Obe's best friend and biggest secret. Amy Sarig King tells the story of a friendship that could actually save the world.(ages 8 & up)
 "Reading gives you an opportunity to understand someone else's perspective, no matter how much you disagree with it. I wish that everyone had the opportunity to try to inhabit someone else's experiences for a few hours, and literature is a great way to do that."
~ Lisa Lucas, executive director, National Book Foundation