Check our "We Recommend" shelves for
some of our favorites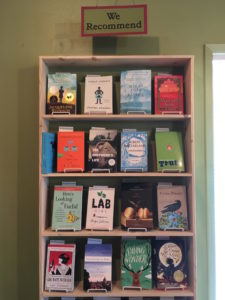 "I cannot sleep unless I am surrounded by books."
~ Jorge Luis Borges
Here are some books surrounding us
Beth Recommends:
A Greyhound of a Girl by Roddy Doyle.  "Mary O'Hara is a sharp and cheeky twelve-year-old Dublin schoolgirl who is bravely facing the fact that her beloved Gran is dying. But Gran can't let go of life, and when a mysterious young woman turns up in Mary's street with a message for her Gran, Mary gets pulled into an unlikely adventure. A coming-of-age tale about four generations of women in one family."

The Wild Places by Robert MacFarlane. Wild places inspire, calm, excite and heal. But does true wildness exist amidst the sprawl of humanity? MacFarlane sets out in wind, rain, and darkness to answer his question. In chapters exploring individual habitats, he writes in prose so clear the reader feels as if she's following along on his adventures. This book was with me in Ireland, a perfect traveler's companion. In the Burren, I discovered, like the author, that "Limestone … demands of the walker a new type of movement: the impulse to be diverted, to wander …" Take time to wander in The Wild Places. You will be gifted with hope. (Beth)
Beth AND Karen Recommend:
I Wrote You a Note by Lizi Boyd. A girl writes a n0te and asks who found it. Turtle finds it and makes a sail. Squirrel finds it and makes a book. The bright, playful illustrations and animal antics inspire note writing. Other animals find the note until the story comes full circle in a satisfying ending for children of all ages. SO WONDERFUL!
Karen Recommends:
Persuasion  by Jane Austen. Persuasion is a tale of love and marriage, told with irony and insight. Anne Elliot and Captain Wentworth's reunion, after the passage of irrecoverable years of their youth, forces a recognition of the false values that drove them apart.
We Were Eight Years in Power: An American Tragedy  by Ta-Nahesi Coates. 'We were eight years in power' was the lament of Reconstruction-era black politicians as the American experiment in multiracial democracy ended with the return of white supremacist rule in the South. In this sweeping collection of new and selected essays, Ta-Nehisi Coates explores the tragic echoes of that history in our own time: the unprecedented election of a black president followed by a vicious backlash that fueled the election of the man Coates argues is America's "first white president."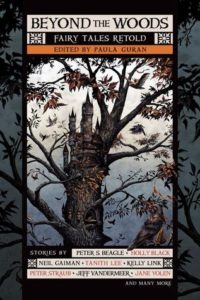 Beyond the Woods: Fairy Tales Retold edited  by Paul Guran. "Once upon a time, the stories that came to be known as "fairy tales" were cultivated to entertain adults more than children; it was only later that they were tamed and pruned into less thorny versions intended for youngsters. But in truth, they have continued to prick the imaginations of readers at all ages. Over the years, authors have intentionally retold and reinvented the tales in a variety of ways–delightful or dark, wistful or wicked, sweet or satirical–that forge new trails through the forests of fantastic fiction. This new anthology compiles some of the best modern fairy-tale retellings and reinventions."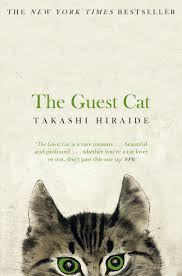 The Guest Cat  by Takashi Hiraide. "A subtly moving and exceptionally beautiful novel about the transient nature of life and idiosyncratic but deeply felt ways of living. A couple in their thirties live in a small rented cottage in a quiet part of Tokyo; they work at home, freelance copy-editing; they no longer have very much to say to one another. But one day a cat invites itself into their small kitchen. It leaves, but the next day comes again, and then again and again. Soon they are buying treats for the cat and enjoying talks about the animal and all its little ways. Life suddenly seems to have more promise for the husband and wife — the days have more light and color. The novel brims with new small joys and many moments of staggering poetic beauty, but then something happens…"
Carol Recommends: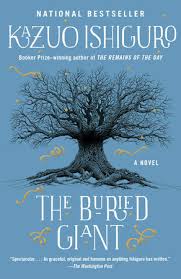 The Buried Giant by Kazuo Ishiguro. "An extraordinary new novel from the author of Never Let Me Go and the Booker Prize winning The Remains of the Day. "You've long set your heart against it, Axl, I know. But it's time now to think on it anew. There's a journey we must go on, and no more delay. . ." The Buried Giant begins as a couple set off across a troubled land of mist and rain in the hope of finding a son they have not seen in years.
Iris Recommends: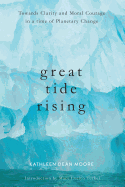 Great Tide Rising by Kathleen Dean Moore. Even as seas rise against the shores, another great tide is beginning to rise – a tide of outrage against the pillage of the planet, a tide of commitment to justice and human rights, a swelling affirmation of moral responsibility to the future and to Earth's fullness of life. Philosopher and nature essayist Kathleen Dean Moore takes on essential questions to lift people who deeply care, inspiring them to move forward with clarity and moral courage.  (NF)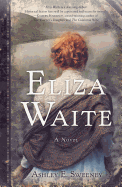 Eliza Waite by Ashley Sweeney – 2017, Nancy Pearl Book Award After the tragic death of her husband and son on Washington State's Cypress Island, Eliza Waite joins the throng of miners, fortune hunters, business owners, con men, and prostitutes traveling north to the Klondike in the spring of 1898. . Using Gold Rush history, diary entries, and authentic pioneer recipes, Eliza Waite transports readers to the sights sounds, smells, and tastes of a raucous and fleeting era of American history. (F)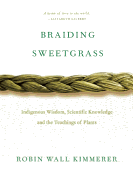 Braiding Sweetgrass – Robin Wall Kimmerer, a leading researcher in the field of biology and an active member of the Potawatomi nation, senses and relates to the world through a way of knowing far older than any science. In Braiding Sweetgrass, she intertwines these two modes of awareness–the analytic and the emotional, the scientific and the cultural–to ultimately reveal a path toward healing the rift that grows between people and nature. (NF)