Check our "We Recommend" shelves for
some of our favorites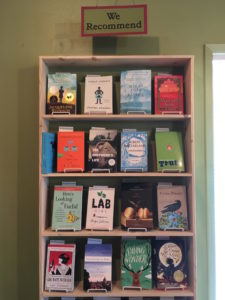 "Whenever you read a good book, somewhere in the world a door opens to allow in more light."
~ Vera Nazarian

Here are some books surrounding us:
Beth Recommends:
The Naturalist's Notebook: An Observation Guide and 5-Year Calendar-Journal for Tracking Changes in the Natural World Around You by Nathaniel Wheelwright & Bernd Heinrich. "This one-of-a-kind guide instructs readers in honing their nature observation skills, with a five-year journal format to create a long-term record of the patterns, highlights, and changes in their own backyards — from the date of the first frost to when summer fireflies appear."
A Christmas for Bear by Bonny Becker and Kady MacDonald Denton.  "Bear's minimalist holiday celebration has an eager Mouse feeling a bit anxious in this humorous and heartwarming new story about the unlikely, lovable pair." The expressions on the faces of Bear and Mouse are priceless! Bonny Becker's expressive wording is perfect for read-alouds.
The Natural World of Winnie-the-Pooh: A walk through the forest that inspired the Hundred Acre Wood by Kathryn Aalto. Reading and browsing through this book is like being in the Hundred Acre Wood with A.A. Milne, Ernest Shephard, Winnie-the-Pooh and all his friends. Aalto explores the relationship between author and illustrator, how Milne's son inspired Christopher Robin, and provides a visitor's guide to Ashdown Forest. Copious photographs, illustrations, maps, excerpts from the Pooh books and more beg to be perused closely. I'm ready to tromp over Poohsticks bridge and go birding in the expanse of moor and forest! (Beth)
Karen Recommends:
Miss Kopp's Midnight Confessions by Amy Stewart. "Deputy sheriff Constance Kopp is outraged to see young women brought into the Hackensack jail over dubious charges of waywardness, incorrigibility, and moral depravity. The strong-willed, patriotic Edna Heustis, who left home to work in a munitions factory, certainly doesn't belong behind bars. And sixteen-year-old runaway Minnie Davis, with few prospects and fewer friends, shouldn't be publicly shamed and packed off to a state-run reformatory. But such were the laws—and morals—of 1916. Constance uses her authority as deputy sheriff, and occasionally exceeds it, to investigate and defend these women when no one else will."
Bookstore Cats by Brandon Schultz. "Bookstore cats are an international phenomenon, and here is a collection as entertaining and as adorable as the cats who festoon book lovers' havens. This wonderful investigation has turned up the curious cats running bookshops worldwide, and documents the unique personalities of each."
The Reef : A Passionate History: The Great Barrier Reef from Captain Cook to Climate Change by Iain McCalman. "A passionate history of the Great Barrier Reef told in twelve extraordinary tales. Equal parts gifted storyteller and acclaimed historian, McCalman brings to life the people who've shaped our knowledge of and attitudes to this World Heritage-listed site."
Marielle in Paris  by Maxine Rose Schur. "Marielle the mouse has worked her dressmaking magic for nine days and nine nights to create nine beautiful dresses for Madame Sooree's nine daughters. Finished at last, Marielle goes to bed, but when she wakes up, the dresses are gone! With no time to lose, Marielle must overcome her fear of heights to take a wild ride with her friend Pierre the pigeon to recover the missing party dresses, which have been scattered across Paris."
Iris Recommends:
This is the Place: Women Writing About Home, Margot Kahn and Kelly McMasters, ed. Home is a loaded word, a complex idea: it's a place that can be comforting, difficult, nourishing, war-torn, or political. In this  collection, 30 women writers explore the theme in personal essays about neighbors, marriage, kids, sentimental objects, homelessness, domestic violence, solitude, immigration, gentrification, geography, and more. Contributors, including part-time Lopezian Margot Kahn, lend a diverse range of voices to this subject. This is the Place will make you laugh, cry, and think hard about home, wherever you may find it. (NF)
The Tiny Mess by Maddie Gordon, Mary Gonzales, and  Trevor Gordon,  is a cookbook about people, places, small kitchens, and the delicious meals that come out of them – including Lindsey Cummins and Zach Dawson, from Lopez! It's a whimsical hodgepodge of recipes, culinary adventure, medium-format photography, plus petite and inspiring cooking spaces that prove constraints are nothing but an invitation for creativity.
From buses (like Lindsey and Zach's) and tree houses to sailboats, off-the-grid mountain cabins, converted rail cars, and the refrigerator of dumpster-diving urban freegans, The Tiny Mess is alive with tasty and unique recipes, personal stories from the cooks themselves, storage solutions, illustrations, and photos of everything in-between.  (NF)